Michael Jason Allen's New Feature Film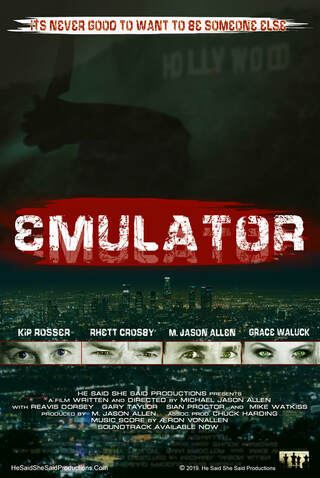 …and ME?! Yeah. Me. In 2016, I thought screenwriter and Director, Michael Jason Allen's film,
"An Idle Mind is the Devil's Playground," was both my film debut and swan song.
Wrong…here it is, 2019. Jason is at it again, and now, so am I – playing Dr. Charlie Sorland in EMULATOR.
According to the synopsis:
In 2003, 70 year-old Charlie Sorland is conditionally released from death row for good behavior and societal
contributions after serving 50 years for serial murders. With a news story on his release and his dedication to
deter others from violence, impressionable Jason Lutra sees the story and takes an unhealthy interest in Charlie.
As new murders begin to occur by way of Charlie's old m.o., Detective Brent Lowe takes notice of the similarities
and employs Charlie's help in getting into the mind of his own copycat killer with promises of a full pardon for
the catch. ​While Detective Lowe struggles to nail down a solid suspect, Charlie helps to confirm Jason as the
copycat killer per the undisputed evidence. Charlie's redemption now depends on whether or not Jason can
divert Detective Lowe's suspicions to avoid the rap.
As with all of Jason's extraordinary films, this undertaking is a labor of sacrifice and love. You can help bring
this movie to the screen and receive some perks in the process by CLICKING HERE, then scrolling down to the
bottom of the page.
We're in the midst of shooting right now! More to come…
Posted
by