Purchase Online
Preview music selections and follow links to purchase CDs or other items:

ALL NEW! LESSONS FROM VINEGAR MOTHER

Available Now at CD Baby! CLICK HERE

LESSONS FROM VINEGAR MOTHER
Ambient Compositions for Theremin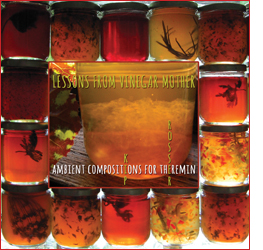 LESSONS FROM VINEGAR MOTHER

You can listen to samples and download the FREE Vinegar Mother Booklet below.

"Ambient" music has undergone many incarnations since Brian Eno first coined the phrase in 1978.
Yet, it has its origins in composers like Debussy and, especially, Erik Satie, who referred to his
own works as "furniture music." It is intended for the background, music that plays almost at the
edge of perception, blending in with the sounds of the immediate environment.

It's in this tradition that Lessons From Vinegar Mother was created.

And who, or what, is the Vinegar Mother? From 4th century Norse culture comes the obscure and
nearly lost art of receiving lessons from the Vinegar Mother. Mother of Vinegar or Mycoderma aceti
(from the Greek μὑκης (fungus) plus δἐρμα (skin), and the Latin aceti (of the acid) is composed of
cellulose and acetic acid bacteria that forms in unpasteurized vinegar. Oxidation gives rise to this
gelatinous substance that can assume amorphous and even ethereal shapes.

It is these shapes that are "read" by a practitioner of the art. Bengta Stenlund is a tenth generation reader
or "Daughter" of the Vinegar Mother. All of the music on Lessons From Vinegar Mother was directly
inspired and composed using the text of ten lessons Ms. Stenlund imparted specifically for this project.

Put it on and let it flow. Soundscapes, familiar and unfamiliar. Meditative expanses evolve into
energetic passages that seethe with rhythms. Laughter, half-heard whisperings arise and hang in the
air. Melodies degrade into sonic textures and then reconstruct themselves. The ethereal voice of the
theremin, combined with the text in the Vinegar Mother Booklet, encourages the listener's associations,
lending depth and personal resonance to the music…all in the background.

DOWNLOAD THE FREE VINEGAR MOTHER BOOKLET

Lessons From Vinegar Mother was produced on a very limited budget. As a result, its
accompanying 16-page booklet proved too expensive to print. Experience all of the Lessons from
Vinegar Mother as they were meant to be experienced.

The Vinegar Mother booklet contains the complete text of all ten lessons, original artwork, and
extra background information. You can download the booklet, FREE, even if you don't purchase the
CD! To view the booklet, just click on the link below. To download it, right click on the link
below and save the PDF file called: VinegarBook."

VM_Booklet

Available Now at CD Baby! CLICK HERE

LESSONS FROM VINEGAR MOTHER COMPLETE TRACK LISTING:
(Click below for 60-second samples)
Lesson One
Lesson Two
Lesson Three
Lesson Four
Lesson Five
Lesson Six
Lesson Seven
Lesson Eight
Lesson Nine
Lesson Ten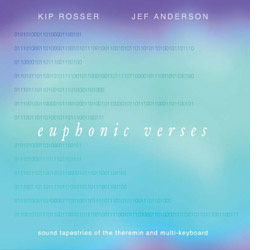 EUPHONIC VERSES
Classical music for theremin and multi-keyboard created by Kip Rosser and pianist, Jef Anderson.
Two years in the making, Euphonic Verses contains 16 tracks, primarily classical. The
wide variety of compositions were chosen for their power and beauty, their challenging music
and for their potential to push the technical boundaries of the theremin and its "vocabulary."
Pianist Jef Anderson lends his extraordinary sensitivity and interpretive genius to each track
as the theremin and keyboard truly work in concert. Both Rosser and Anderson decided on an
electric keyboard over an acoustic piano to further expand the language of the two instruments.
Since the theremin is an electronic instrument, capable of many timbres, it seemed only natural
to use a keyboard that could change its character and sonic qualities as well.

 Click here to purchase.
COMPLETE TRACK LISTING: (Click below for 45-second samples)
L'Antoueno – (Canteloube)
Bailero – (Canteloube)
Allegretto Ben Moderato – (Franck)
My Man's Gone Now – (Gershwin, Heyward)
Lo Que Vendra – (Piazzolla)
Gnossienne No. 1 – (Satie)
Gnossienne No. 2 – (Satie)
Gnossienne No. 3 – (Satie)
The Silver Swan (Gibbons, Rorem)
Funerailles – (Liszt)
Nessun Dorma – (Puccini, Adami, Simoni)
Adagietto – (Mahler)
Aria – (Villa-Lobos)
Dansa – (Villa-Lobos)
Pastourelle – (Canteloube)
I Give My Heart – (Millocker, Makeben, Leigh)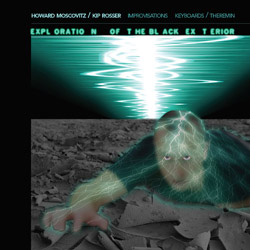 EXPLORATION OF THE BLACK EXTERIOR
Improvised music for theremin and keyboards created by Kip Rosser and Howard Moscovitz.
Taken from over forty hours of improvisation sessions, Exploration of the Black
Exterior dives into the hearts and souls of the instruments and the musicians
listening to their own internalized music as well as listening intently to one another.
Each track was recorded live, in a single take, without overdubbing. Through exploring
sonic textures, micro-tones, atmospheres and moods, at times the keyboard and theremin
actually cease to be indentifiable, each taking on characteristics far more mechanical,
abstract or even animal.
SOLD OUT!
COMPLETE TRACK LISTING: (Click below for 45-second samples)
Finding Love Underneath, Part One
Finding Love Underneath, Part Two
Dreamt in a Moving Car
3 Over 4 Tone Pulse
88 Evening Devotions
Flight of the Yellow Balloon
On the Road of the Broken Horse
Wind in the Wire Fields
Divertimento No. 4
Lake Edge Through a Frog's Ear
Exploration of the Black Exterior